With a wicked sense of humor, an affinity for the supernatural realm, a preternatural interest in books, and a proclivity for storytelling that began in his youth, Mark Lefebvre has capitalized on his talents as an author, and, more recently, as the  Director of Self Publishing and Author Relations at Kobo.
As shown in the feature photo by John Robbie, Mark Leslie (his pen name) shares the spotlight with a svelte traveling companion and co-author Jenny Jelen of a non-fiction work, Spooky Sudbury: True Tales of the Eerie & Unexplained.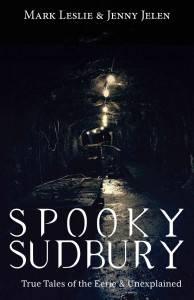 This interview delves into his background, career progression, and Kobo Writing Life as a valuable way for writers to reach readers around the world .
Tell us more about your first novel, your Underwood typewriter, and earliest attempts at storytelling.
Mark Lefebvre: I have always enjoyed storytelling; it began with little Fisher Price action figures that I used to play with, unrolling serialized stories that I would return to as if the play were episodes of an ongoing television program. There was something, however, about the permanence of putting stories down on paper, and some of my earliest experiences with writing came in the form of little stick-figure cartoons I would draw. When the words overtook the images, I migrated to long-form writing of my stories.
When I was thirteen years old, I discovered my Mom's old Underwood typewriter and started using that to produce my tales. I took an "epic" cartoon that I had written called The Story of Conan Boc—a tale inspired by a couple of characters that my buddy Tom Potts and I had created while playing Dungeons and Dragons. Conan Boc was Tom's barbarian. My own character was a barbarian/ranger called Thundar Hunt. Inspired by images from oversized The Savage Sword of Conan comic books and adapting story elements from the adventures shared with Tom, I told the tragic tale of Conan Boc's death. He was a victim of his own hubris.
Mark Leslie (Lefebvre), the Underwood Typewriter, and his loving Baba (Grandmother). Yes, that's a Dungeons & Dragons monster manual on the table—an early writer's form of research. Thanks to Gary Gygax.
I spent most of that spring, at age thirteen, and the summer, after turning fourteen, adapting the comic into a novel entitled The Story of Aaron Boc. Even at that age I realized that I couldn't write a proper novel using someone else's character name. Even though the character might have originally been inspired by the Conan that Arnold Schwarzenegger had played in the 1980's movies, I knew I had to create my own characters. So, I crafted Aaron's tragic story, which was somewhere in the realm of about 30,000 words, and then set about writing the sequel called The Search for Aaron Boc, when his old best friend, Thundar, learns that Aaron might not have died, but has, in fact, been captured and tortured for all those years.
I have since left both of those "novels" in a trunk and have written three other novels. Two might be called weird fiction with paranormal themes (I, Death and A Canadian Werewolf in New York). The third is a contemporary fiction tale with a bit of a mystery (Morning Son). At the time of this writing, none of the three have been published, but I, Death is due to be released by Atomic Fez, a West Coast Canadian publisher, later in 2014.
How did the course of your career steer you to Kobo? Where do you see your career path leading, as both an author and someone involved in author relations?
ML: My path to Kobo was a twenty-year journey. But to make this epic story short, I got into bookselling because of my love for writing. I figured that I'd never be able to live off of a writer's income (certainly not on the $5 or $50 per story I had been making on each story sale in those early days), so I took a job as a bookseller in 1992 in Ottawa. I worked in virtually every type of physical and online bookstore in that time, managing at various locations and in different capacities.
When I was at McMaster University bookstore, I purchased an Espresso Book Machine, a machine that can print, bind and trim a book right in the store from a digital file in about 15 minutes. I originally purchased the machine to work collaboratively with textbook publishers to produce custom editions of textbooks in order to save students money.
But one of the side-effects were the local authors wanting to use the machine to produce their own books. So, I developed a business out of helping these authors realize their dreams. Once we conquered print, both at my store and via broader print distribution channels, I started to help my clients get their eBooks set up on platforms like Kobo.
Naturally, when Kobo started looking for someone to help establish an author-centric self-publishing platform, I couldn't resist the appeal of going to work for a company I had admired and had been watching closely since their inception. I had also previously worked with several of the leaders of the company: Mike Serbinis (then CEO), and Michael Tamblyn (then Chief Content Office and now President). These were two men whom I both respected and admired. It was a great opportunity to be able to work with them again.
I was very proud to come to Kobo and help establish what has become Kobo Writing Life along with an amazing team of fantastic individuals. I started off as a team of one when I got to Kobo in October 2011, and I spent a significant amount of time with a great development team that was committed to launching a first class self-publishing experience. When we launched Kobo Writing Life, I was still the only business-facing member of the team. Since then, I've been able to build up a world-class team, now with 8 members.
It's hard to believe that Kobo Writing Life is still less than 2 years old (it was born in July 2012). We are continuing to build relationships with our retail partners and with the authors and publishers that use Kobo Writing Life to make their work available in Kobo's global catalog. I adore my role here at Kobo, particularly because, though I rarely work less than 12 hours a day, it barely ever really feels like work. I'm doing what I would be doing anyway: staying involved and active in the writing community and helping other writers.
As for my own writing; I've got three books out this year. Two are traditionally published titles. Tomes of Terror: Haunted Bookstores & Libraries is a non-fiction exploration of the paranormal coming from Dundurn. I, Death is a dark horror novel from Atomic Fez. I'm also releasing the 10th anniversary edition of One Hand Screaming, a collection of short stories that I self-published back in 2004. Way back then self-publishing was something you didn't do, or—at the very least—you didn't admit to doing.
Who were you earliest influences in wanting to become a writer? Is there anyone you currently admire for their success in self-publishing?
ML: Early influences of wanting to become a writer would have to be creators like Stan Lee. I adored Spider-Man and all of the other incredible characters and stories that Stan Lee has created. So, he would likely be the first. When I was first starting to take writing serious, I was also influenced a lot by Piers Anthony. I took using the name "Mark Leslie" from something I'd learned from Anthony's own author notes at the end of each of his novels and, in the same manner, he dropped the last two names from Piers Anthony Dillingham Jacob to come up with his writing name, I did the same, dropping my difficult-to-spell and pronounce last name from Mark Leslie Lefebvre.
I also, of course, borrowed Anthony's fascinating "behind the scenes" notes and have continued to do the same thing in almost every writing project I have written. I even managed to insert some "behind the author" information into each of my non-fiction paranormal books for Dundurn. In my experience, some readers really enjoy the behind-the-scenes insights or notes styled something like a director's commentary.
Do you ever hunt for books in old bookstores? Can ebooks and conventional printed books co-exist in the future, or will ebooks dominant book sales?
ML: I love old bookstores. I adore used bookstores. (Actually, the only type of bookstores I haven't worked in are religion bookstores and used bookstores). In fact, I have a huge bookstore problem. I simply cannot walk past a bookstore without feeling compelled to step inside and look around. Books and bookstores are among by biggest weaknesses.
That being said, I also think that ebooks and conventional printed books not only co-exist beautifully, but will continue to do so quite amicably—even as ebooks continue to slowly increase as a percentage of overall sales. They are both quite marvelous in their own ways and each bring unique value to readers in different ways.
Yes, ebooks will continue to become more popular, will continue to become more prominent in the book industry. Nonetheless, print books will never totally disappear and will still hold a key place in our industry regardless of whatever new technologies come along.
Kobo has progressively been moving toward greater support for both indie authors and indie bookstores. Could you talk more about the ways in which you see Kobo empowering authors and booksellers?
ML: Indie authors and indie booksellers have a lot in common. Both are often left out of major opportunities due to economies of scale. Indie booksellers don't have the buying power of the major chains, and indie authors often don't have distribution or a way to get their books into physical bookstores.
Kobo, itself is a bit of an underdog in an environment that is overpowered by the world's largest bookstore (Amazon), the world's most powerful search engine (Google), and the world's most dominant device ecosystem (Apple). Kobo recognizes that, in order to differentiate itself, it can't possibly be bigger or richer or more powerful than any of those players, but it can certainly focus on what it does well: ebooks and partnering with other best-in-class players in the industry, who do what they do exceptionally well. That includes indie booksellers who bring a far richer element of local culture to their community than virtually anyone else.
We are continuing to look for ways to bring indie authors and indie booksellers together—exploring the ways that ebooks can be hand-sold in local bookstores and the ways in which bookstores can have a part in recommending great ebook reads to their customers. We want to do this in a way that makes it easy for customers to provide continuing support for that important local bookshop. (Kobo's partnership program ensures that those customers are still associated with the store and that their purchases are attributed to that store.)
Thus, if Kobo Writing Life can continue to broker the relationship between indie booksellers and indie authors, demonstrating, to each, the incredible value they offer, not just to their local communities, but to one another, we will have made a significant difference and demonstrated a unique value proposition that no other company is able to bring.
The dramatic shifts in publishing over the last decade make it difficult to predict where the industry is heading, but from your perspective what do you see as the most important trends in play at the moment?
ML: I think one of the most important trend that I have seen, and that I ultimately respect within publishing is the collaborative nature of things. Authors are collaborating with other authors. Forward-thinking publishers are experimenting with modifying their rights into a more creative collaboration. In today's environment, some book projects are only produced based on crowd-sourced funding from places like Kickstarter or Pubslush. I think that collaboration will produce an incredible new set of opportunities for publishers, authors, retailers, and readers.
What do you see as the most effective way to draw more authors into the Kobo fold? Are there any upcoming programs or initiatives that you can reveal that may open up additional indie possibilities?
ML: As mentioned, it is extremely difficult to get the attention of writers when we are up against the gargantuan global brands. But, we continue to make our way through partnerships and collaborative efforts. The fact is, Kobo is a global company, with localized content in 16 different territories, available to consumers in 190 countries and with thousands of retail partners around the globe. Our brand is continuing to grow and expand every single day. Writers and readers discovering Kobo quickly recognize that Kobo stands for readers, and for writers, and our goal is bringing those two critical players together for a truly unique immersive reading experience. This combination of values virtually sells itself.