With a new book out, describing the ways in which indie authors can turn their works into audiobooks, and more than 30 audiobook narrations to his credit, Richard Rieman is enjoying this latest turn in his career. From a background in radio, he trained as a voice actor with notable coaches and professionals in the industry and then poured his energies into what he calls the theater of the mind. He shares his insights into a dramatically changing industry and offers advice for authors who want to venture into the audio realm.
Relax and enjoy this interview, conducted through our sister site, ePublish Yourself!.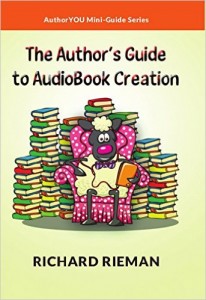 The surge in audiobook popularity is being driven by the newfound ease at which titles can be streamed or downloaded—to smartphones, connected cars, tablets, laptops. Given this spotlight of attention and the relative simplicity in creating an audiobook, every author should consider the benefits of either narrating or finding a narrator to create an audiobook version of any released works. Richard offers guidance and explains the latest techniques in his book, The Author's Guide to Audiobook Creation, available as an ebook, paperback, or audiobook, through Amazon.